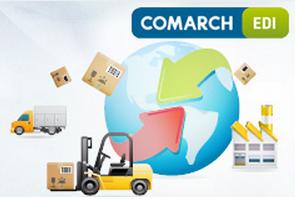 Integration of "1C 8" with «Comarch EDI» with the following options:
Download orders from «Comarch EDI»;
Unloading invoices in«Comarch EDI»;
Comparison of the nomenclature and counterparties in "1C 8" and "Comarch EDI", excluding duplication.
Orders from "Comarch EDI" customers fall into "1C 8" automatically . In Fig. 1 shows a fragment of the magazine "Orders of customers", where orders received from "EDI" are marked with the corresponding icon.
When downloading orders from "Comarch EDI", the counterparty and the nomenclature are automatically detected. In addition, the task is formed for the responsible manager or the sales manager about the receipt of new orders with EDI.

It can be integrated into configurations on common forms 1C:
Trade management;
Manufacturing enterprise management;
Trade Management, Revision 2.3;
Accounting, edition 1.2
The cost of work: 2740 UAH.
Excluding the cost of integration in the configuration of the customer.
Developer: NCTProfessional programming "1C"www.nct.ua